"Better the devil you know than the devil you don't"!
That is Kyra's motto when it comes to breeding and that is why almost all her young horses have dressage stallions she has been riding in their pedigree. She is a great believer in "performance tested" breeding. If the stallion has been showing in, preferable international Grand Prix himself, he has shown, that he has the right conformation and soundness to be trained and learn everything for Grand Prix. He has also shown, that he has the right temperament to cope with the stress of travelling and competing in new environments. She has found that the chanses are bigger that the offspring will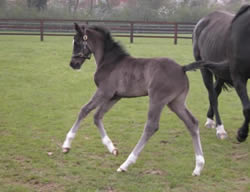 Topiary born 2006, by TipTop (by Master)
out of Garbo (by Gauguin de Lully)
inherit these accolades that are essential for a good competition horse of today.In Sweden Kyra co-operates with Bollerup Agricultural Institute. They have good mares with excellent dressage pedigrees and they also have good facilities to bring up young horses. Zenith, Money and Top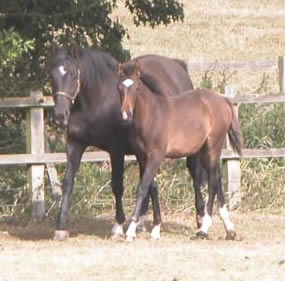 Garbo with her filly foal Tip Toe born 2003,
full sister to Topiary

Hat all come from there. She has also bought a "made to order" colt foal, Tenor by Tip Top there.
Here in England Kyra keeps her mares and young horses at Neston Park Stud where Carolyn Murdoch, a very good horse woman, is the stud manager.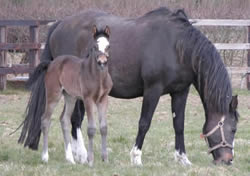 Tiphany born 2006, by TipTop (by Master) out of
May Surprise, full sister to Matador