Kyra has developed a system of training horses that combines the core elements of the German and Swedish systems with her own, unique, techniques. The system has been applied to many different horse and rider combinations with great success. The basics aim to develop the horse based on his own capabilities. This is described in her book, Dressage with Kyra.

Kyra is a fundamentalist and believes strongly that the quality of the paces reflect the basic training. Every horse that comes for training is evaluated along the same lines - is it forward, is it straight and is it submissive in a relaxed way. Every pace, every movement depends on the quality of the foregoing exercises. The riders, even international Grand Prix riders, are evaluated for their effect on the horse and their correct way of sitting and influencing the horse.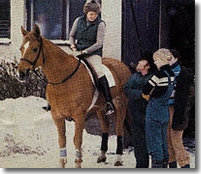 Kyra with some of her students
outside her stable, in Finland,
In 1991, Kyra moved to Sweden, becoming chief dressage trainer at Flyinge stud. As a result, this traditional Swedish stallion centre was transformed into an international Mecca for dressage.

Towards the end of 1998, following many successful years in Sweden, Kyra and her partner Richard moved to the United Kingdom. They now live on a farm in West Sussex.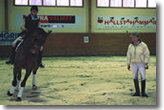 Kyra at the Dressage Symposium at
Strömsholm, Sweden 2001
Upon returning to Finland from Sweden and Germany Kyra started her own business, Helsingin Kilpatalli (the Helsinki Competition Stable), which she ran from 1976 until 1991. In Finland, she was able to take the most important elements of the systems she had learned abroad and translate these into her own approach with outstanding results. Kyra believes that Finland, because of the scarcity of other trainers, afforded her the opportunity to hone her system of training.

For many years, Kyra was responsible for the training of the Finnish junior and young-rider teams. Since 1985 they have won medals both individually and as a team at Scandinavian and European championships. She is very proud that all the riders in the first ever Finnish Olympic dressage team (Seoul 1988) were her students and the team sensationally placed sixth.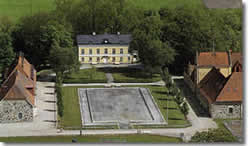 Flyinge, the national stud of Sweden.