In 1967 Kyra participated in her very first competition, the Nordic Cup in Lahtis, Finland. She rode a horse called Dragon in a novice jumping class. After winning two classes, the chef d'equipe of the Finnish jumping team asked if the horse was capable of jumping in a higher class. If he were, he and Kyra would be included in the junior team. Although she had never jumped at the higher level, Kyra relied on Dragon, and answered yes. With Kyra on the team, Finland won the Nordic cup and individually she was placed second.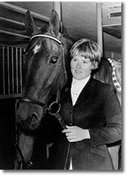 Kyra and Kasper
Kyra left school 1972. She planned to become a veterinarian, however she went to Stromsholm to take a year out and learn more about riding before her studies began. She stayed for more than two years and became so enthusiastic about the horses that the veterinary career was shelved.
She left Stromsholm and returned to Finland to work with showjumpers for a year.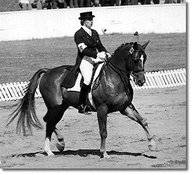 Kyra on Piccolo at the
Moscow Olympics in 1980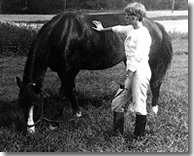 Kyra with Dragon
Two years later, Kyra's parents bought her first horse, Kasper. That same year, Kyra participated in three different Finnish junior championships. She won the dressage competition, was second in the eventing and fourth in the jumping - all with Kasper.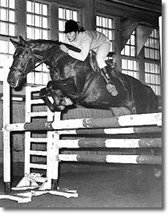 Kyra with Stromsholm
school horse Laura
At Stromsholm, Kyra gained a thorough theoretical framework along the traditional military lines that permeate Europe. This was to form the solid foundation for the strongly practical emphasis she was to have in Germany.
Few riders in the world have managed to train and successfully compete so many different horses in international Grand Prix dressage. Kyra has obtained this exceptional result fourteen times, with Piccolo, Nör, Matador, Ramon Navaro, Edinburg, Vancouver, Flyinge Amiral, Midt-West Ibi-Light, Dakar, Patrick of Finland, Master, Asterix, Lillemarkens Arkibal and Max.