Swedish Warmblood, Gelding, Born 1995
Breeder: Britta-Stina Eriksson, Mellösa, Sweden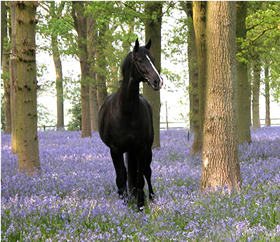 In the summer 1999 a friend of Kyra contacted her and said she had been riding a 4-year-old black gelding by Master. His name was Max and he was to be sold at the auction at Falsterbo Horse Show. She said Max had "Kyra" written all over him. Kyra bought him unseen and Max arrived in England later that year. The stable was full so he had to stay the first night at the farm of one of our students, Yvette Conn. She fell in love with him and insisted in becoming a co-owner. She was and she still is Max' and Kyra's greatest supporter both at home and at shows.
Max's competition debut was qualifying for and winning the Championship for 6-year-olds at Hickstead. Kyra continued the education towards Grand Prix at home and when Max was nine years old, they returned to Hickstead for a Prix St Georges (which they also won).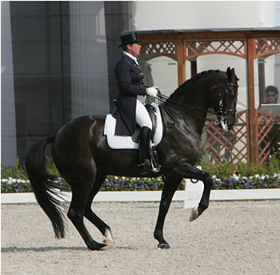 Max in Aachen 2006
Photo Astrid Appels

Two weeks later Max did his first Grand Prix at a small national show (winning again). One month later it was time for his international debut, he was second in the Grand Prix and won the Kür at CDIO Hickstead - A promising start of the international career.
The following year (2005) it was time for the international championship debut and Max and Kyra were overall 12th at the Europeans in Hagen, Germany. In 2006 they were 12th in the Grand Prix Special and 7th in the Grand Prix Kür at the World Equestrian Games in Aachen.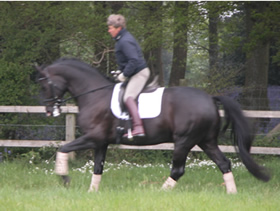 The success has continued and they were 4th in the World Cup Final in Las Vegas 2007. In Las Vegas Kyra said: "I rode Max's sire, Master, in the 1998 World Cup Final. Max is a little bit the same as Master. They come in and say, 'Oh, 17,000 people have paid for tickets only to look at me today, I think I have to do my best.' They grow when they go into the arena instead of shying away."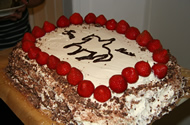 Celebration cake for the Europeans 2005


Watch Kyra and Max in their winning
Freestyle in Stuttgart November 2006