Russian trakehner.
Born 1982. Approved stallion.
Kyra bought Edinburg in Russia in 1991.

This charming black stallion started his career as a racehorse but Ivan Kizimov, gold medal winner at the Olympic Games in Mexico, discovered his talent as a quality dressage horse in 1988.

Edinburg gave Kyra her fourth Olympic ride, in Barcelona 1992. Earning a fifth place.
Edinburg made a real international breakthrough in both the European Championship in Lipica in 1993 and the World Championship in the Hague in 1994, Kyra and Edinburg finished fourth - just outside the medals.

Edinburg died in 1998. He is still used as a breeding stallion thanks to modern technology with frozen semen.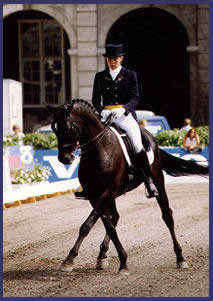 Photo© Krister Lindh


Breeding info